Special Olympics Duluth has offered training in both artistic and rhythmic gymnastics for the past 26 years.. Training begins in April and ends in June - Twin Ports Gymnastics Center - Superior, WI

Contact

Linda Hines for more information.

Photos from 2006 Minnesota Special Olympics Summer Games
---
FACT SHEET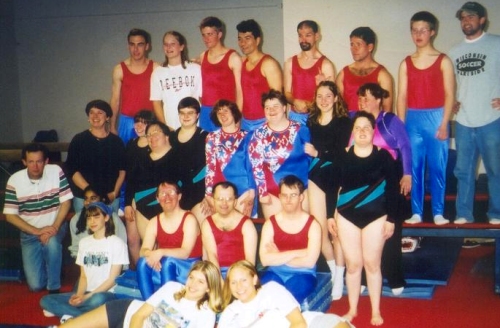 Special Olympics gymnastics combines strength, flexibility and artistry. Competitions are offered for men and women in artistic and rhythmic events. As in all Special Olympics sports, athletes are grouped in competition divisions according to the athletes' ability level, age and gender.
Women may compete in up to four events in either artistic or rhythmic competitions. The artistic events include uneven bars, balance beam, vaulting and floor exercises. The rhythmic competition includes rope, hoop, ball and ribbon.
Men may compete in up to six events in artistic or rhythmic divisions. Men artistic events include floor exercises, pommel horse, rings, vaulting, parallel bars and horizontal bar.
For advanced athlete the all-around competition offers an additional challenge. Men and women may choose to compete in this event in addition to their other events.
Athletes also participate in Unified SportsŪ. Unified SportsŪ allows athletes with and without mental disabilities to compete as one team, promoting teamwork and inclusion opportunities in a competitive sport event.
Gymnastics is one of Special Olympics' expanding sports. First included as an official Special Olympics sport in 1972, the 1995 World Games, had 367 competitors represent in17 countries in this event.
Special Olympics has received tremendous help in the gymnastics program from gymnastic celebrities. Lydia Bree has assisted with the development of the rhythmic gymnastics program. In the artistic events, Mary Lou Retton and Kathy Johnson have donated their time to assist with clinics. Bart Conner and Nadia Comaneci have recently been filmed doing the new artistic routines for the 1996-1999 Official Special Olympics Summer Rules. Bart Conner also serves on the Special Olympics International Board of Directors.
Special Olympics gymnasts also perform demonstrations and compete outside of Special Olympics events. Athletes competed at the 1995 World Trials, the 1995 USA versus Belarus competition, and the 1993 US Olympic Festival.
The Official Special Olympics Sports Rules govern all Special Olympics Gymnastics competitions. As an international sports program, Special Olympics has created these rules based upon Federation International de Gymnastics (FIG) and National Governing Body (NGB) rules for Gymnastics. FIG or NGB rules shall be employed except when they are in conflict with the Special Olympics Sports Rules. In such cases, the Official Special Olympics Sports Rules apply.
Special Olympics is the first organization other than a national Olympics Committee to be officially recognized and endorsed by the International Olympic Committee.
---
Back to [SO Duluth Home Page] [Training and Sports]